Southwest Virginia High School Sports Since 1995

Mission
Crunch High School Sports Media's mission is to highlight and promote young high school athletes in their sport and through in-sport learning and leadership in partnership with the participating schools and their coaches. Crunch partners with leaders, local businesses and communities. Our efforts to promote athletes through print, radio, tv, internet/website, and social media provides further opportunities for athletes to continue in higher learning, entertain fans, as well as inform the public of the athlete's achievements.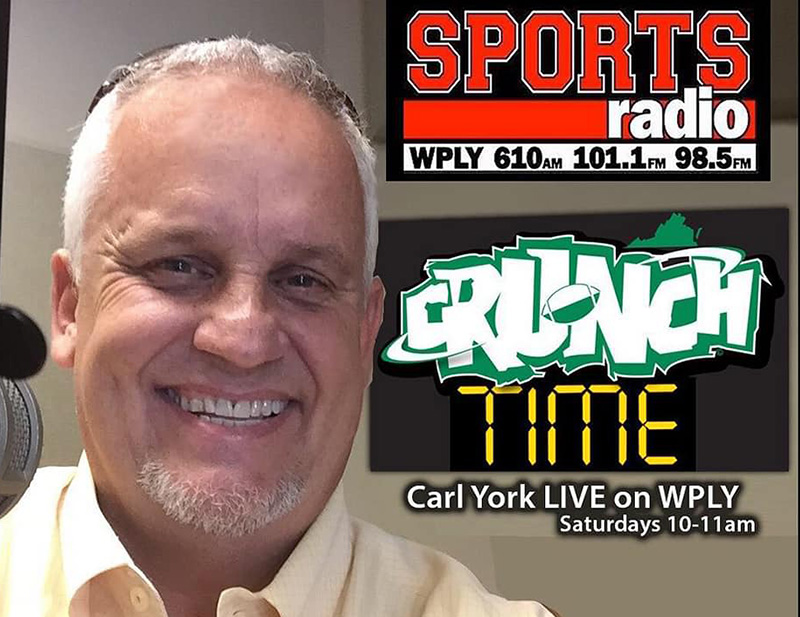 About Crunch
Crunch is a high school sports media company that was established in 1995 by Carl York in Roanoke in Southwest Virginia. It all started as an idea to promote young prep athletes and an innocent meeting with legendary Salem High School football coach Willis White on the Spartans practice field one hot afternoon in August. White later recalled, "I wasn't sure who you were or what you were proposing, but I liked the idea of promoting high school football." Crunch started that first year featuring the Salem Spartans only, weekly. That year, fortuitous for Crunch, Salem and Coach White won their first state championship in 1996 over Sherando at Victory Stadium in Roanoke. And the Crunch was off and running.Crunch started solely as a FREE high school football print publication that focused on area high school football. The next year it quickly grew to 12 teams in and around the Roanoke Valley. The secret to Crunch is the willingness of area coaches, each week, to talk about their teams, players, and the sport that they have dedicated their lives to for the betterment of our young athletes. Today Crunch has grown to cover 38 high schools in 15 counties in central and Southwestern Virginia with three unique weekly versions in Roanoke, Lynchburg, and the New River Valley. Each issue features a game of the week cover and story, along with coaches comments, Crunch player(s) of the week, stats, scores from around the state and much more.
Crunch in Print
The printed Crunch Weekly is is available to the public at the participating high schools and various partner businesses throughout CrunchLand.
In 2023, in the Roanoke area, pick up a copy of the Crunch at – The Salem Civic Center, Bellacino's on Starkey Road or in Daleville, The Dogwood Restaurant on East Lee Avenue in Vinton, Haley Toyota on Courtland Road in Downtown Roanoke, Sports Haven on Williamson Road in the Hollins or on Main Street in Salem (across from the Farmers Market), Virginia Furniture's Market stores in Bedford, Rocky Mount, and Christiansburg. Ginger's Jewelry, The Myrias Group in Roanoke, Guaranteed Rate Mortgage, on the Campus of Western Virginia Community College in Roanoke (workout gym and student common area), River Ridge Dermatology (South Roanoke near Carilion, Lewis Gale Clinic in Salem with more to come.
In Lynchburg, Virginia Furniture's Market store and the Shell/Burger King in Bedford, Central Va Oral & Facial Surgery Office (Wyndhurst), all LaCaretta Mexican Restaurants (Forest, Timberlake Rd, Langhorne Rd, Madison Heights (2), and Rustburg), W&W Novelty on Lakeside Drive, JoJo's Pizza's and Grinders on Lakeside Drive across from Lynchburg University, and Rustburg Food Lion. We are adding more pickup locations all the time.
In the New River Valley – pick up the Crunch at Macado's in Radford or Christiansburg, Virginia Furniture Market in Christiansburg, River Ridge Dermatology in Christiansburg, Steve Newberry Ford in Pearisburg, River Ridge Dermatology and Grants Supermarket in Narrows, The Corner Market in Rich Creek, the Country Market in Fort Chiswell, Skeeters Hot Dogs in Wytheville, Food City (Back on the meat counter) in Wytheville and Galax, County Line Cafe, Food City and Macado's in Galax, Food Lion (front office) in Hillsville and the Food Lion (front circular stand on bottom) in Floyd with more locations to come.
Crunch continues to expand and add more schools, as well as other sports. This year you will be able to follow Roanoke area boys & girls basketball, as well as wrestling on the Crunch website, and featured on CrunchTIME radio. We plan to produce a few TV games/matches of the week as well. In the spring we'll cover best matchups in the spring sports in and around the Roanoke Valley. Crunch is and always will be a work in progress.
Input from coaches, players, and fans helps to make it ever changing for the better. Thanks to everyone who has made Crunch what it is today – Students, Athletes, Coaches, Parents, Athletic Directors, School Administrators and high school football fans. Your support keeps Crunch alive and growing. Crunch On!